[+] Enlarge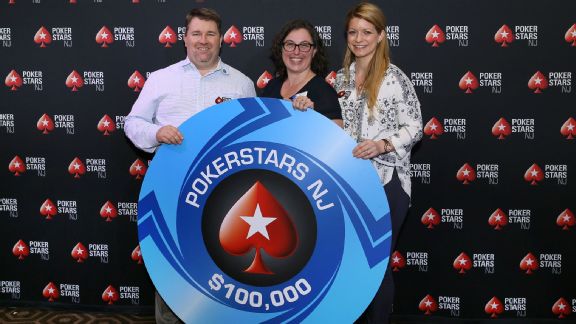 Courtesy of PokerStars
Chris Moneymaker helps present an oversized poker chip representing a $100,000 donation to Autism Speaks, a charity that's near and dear to his heart.
From the perspective of many outsiders, professional poker players are often painted with a wide brushstroke of clichéd personality traits — thought of as selfish, self-absorbed narcissists who live to excess.
While there are certainly some players who fit that mold, or at least some of those qualifications, there is a significant presence within the poker industry that seeks to do good in the world — to utilize the fruits of what they've accomplished and been given to make an impact far beyond the scope of a green-felted table or a hotel ballroom.
Giving back can take many forms, and two of the most valuable resources a poker player can provide are money and their time. While charity tends to straddle both columns in this equation, it is far from the only method by which a player can give back. By utilizing their standing in the community and their audience, players can also become advocates for causes that can help the long-term health of the industry, or even push an agenda they're passionate about that has nothing to do with the game.
Charity and advocacy can go a long way in rebuilding the image of a poker world that's taken a great number of hits since Black Friday, and while it's not imperative for every person who walks into a poker room to carry a torch for a cause, it's important that the efforts of certain players are noted and recognized as poker as a whole tries to make itself more appealing for the mainstream audience it so sorely misses.
---
Charitable efforts in poker, and specifically at the World Series of Poker, are nothing new. Phil Gordon's push with "Bad Beat on Cancer", which asked players to donate one percent of their WSOP earnings, generated millions of dollars of donations that went to the Prevent Cancer Foundation, and Ante Up for Africa was a regular presence at the WSOP in the pre-Black Friday era.
Even though those pushes are no longer visible every summer, the passion for giving has not disappeared.
"Even with poker being such an individualistic sport, there are a lot of people [in the industry] who have come together to help a wide variety of causes," said Chris Moneymaker, 2003 WSOP main event champion.
For some, the impetus for giving comes from a desire to do more with their life than play cards.
"Two years ago I started thinking about whether or not I wanted [poker] to be the only thing I was going to do for the rest of my life," said Liv Boeree who, along with several other prominent poker players and others outside the industry helped form REG (Raising for Effective Giving). "Beyond the immediate positive impact to my close friends and family, it was a pretty individualistic [pursuit]."
In other cases, the tradition of giving stretches to points far beyond their entry into the world of professional poker.
"I actually got into charity work when I was a teenager," said Matt Stout, who founded the Charity Series of Poker, which has run events in Las Vegas, Atlantic City and Hollywood, Florida. "My brother was the president for Habitat for Humanity at Johns Hopkins, and I ended up being the VP at The College of New Jersey when I was attending college. I ran a $10 rebuy charity tournament for them back in 2004, and it was always in the back of my mind as I started playing poker for a living that this was the kind of thing I wanted to do."
Charitable giving beyond a one-time donation often takes one of two forms in the poker world: charity poker tournaments, and pledges of a percentage of total earnings.
While individual efforts like the CSOP have become quite popular, major tournament series have taken notice and started to hold more regular events with a charitable element. The WSOP has been near the forefront, most notably of late with the Little One and Big One for One Drop events (along with the One Drop High Roller).
Moneymaker, who's regularly donator to a wide variety of causes include various animal humane societies, participated in a charity freeroll at the PCA this year — and in winning the event, he helped shine the light on a cause that is very near and dear to his heart.
"When I was down at the PCA this past January, I played in a charity event. I ended up winning, and the charity I was playing for was Autism Speaks — and that was all about my daughter," said Moneymaker, who took home a $10,000 prize to donate. "When PokerStars was coming back into New Jersey, they contacted me and told me they wanted to make another donation as part of the opening festivities, and I was happy to be a part of it."
That donation, an additional $100,000 to Autism Speaks (a portion of more than $7 million in donations made by PokerStars worldwide to various causes), went to a cause that helps the families of those who fall on the Autism spectrum — like Moneymaker's daughter — as well as providing funds for various research hospitals throughout the country.
The most appealing part of charity poker tournaments (beyond the money generated), which happen across the country and all over the world, is how tremendously fun they tend to be. When the money is going to a good cause, and the pressure is largely off, pros and amateurs alike can simply let loose.
"The events are a blast," said Stout. "Giving doesn't have to be a chore. I've had a lot of players, even recreational players I don't know, come up to me and tell me that our charity events are the best time they've ever had playing poker — and that really means a lot to me."
Over a number of events, the CSOP has generated $135,000 for causes like the Three Square Food Bank in Southern Las Vegas, the Community Foodbank of New Jersey and Habitat for Humanity. Stout's efforts, while notable for their growth in scale and success, represent just one particular effort. Three-time WSOP bracelet-winner Matt Matros is part of an annual event in New York City that benefits the New York Writers Coalition, for example, and no matter the cause there's almost certainly a similar effort you can find with a little research.
The other side of the coin — outright donations, or percentage pledges — have a lot of merit in their own right. The desire to give led Boeree and a few friends — notably German poker pros Igor Kurganov (her boyfriend), Philipp Gruissem and a couple of others — to confer with several people outside of the world of poker with experience and a unique philosophy for combining giving and rational that ultimately led to the formation of REG.
"REG is a fundraising effort that's based around a concept called 'effective altruism'," said Boeree. "Altruism is about reducing suffering and improving lives, and effective altruism is about effectively utilizing a finite resource — whether it be time, or the money we make — in order to improve the world. Because we have limited resources, it's important to figure out where we can make the biggest positive impact," said Boeree.
To date REG has raised over $1 million in their efforts, and in Boeree's estimation, it doesn't take much for other poker players to get on board when presented with the concepts involved.
"Poker players, for the most part, get it," said Boeree. "We realize how lucky we are. We get to travel the world, we don't have a boss we have to answer to, and it gives us an incredible amount of freedom."
"[The game of] poker and poker players sometimes get a bad reputation, but I knew that if I started the CSOP the players would get behind it in a big way," concluded Stout. "And they really have. There are bad apples in any bunch, but as a whole, poker players are some of the most generous people you'll ever meet."
---
Giving of one's time can be an equally gratifying experience. In the long struggle that's been the effort for legalized online poker, few big-time players have emerged as a centralizing voice to speak out for the interests of American poker players.
Enter Jason Somerville.
The 29-year-old New York native has amassed a tremendous following over the last few years though "Run It UP", a creation that started with a few YouTube videos and, through thousands upon thousands of hours of play on Twitch and other platforms, became a juggernaut. Somerville's audience reaches hundreds of thousands of viewers a month — one-third of which are Americans.
"I have always been an advocate for regulated online poker in America," said Somerville. "I moved to Nevada to be a part of the first regulated online poker site in the states, I was proud to be a part of the launch of PokerStars in New Jersey, and I feel like I'm kind of uniquely positioned to be a voice for those who want regulation in America.
"They're really hasn't been anybody who has tried to be on the forefront of this issue," said Somerville. "And it's a spot I can really make a difference in. I have the audience, and I have the knowledge. I mean, when you think about it, if you're a professional poker player, or you love the game, you really should be an advocate for regulation."
While some might not see much use in the kind of grassroots campaigns that were popular in yesteryear – most specifically, calling and writing your local government representatives — Somerville has learned through experience that it can be the difference.
"As a cynical American for many years, I never thought it was worth it to put in the effort towards contacting my representatives," said Somerville, "But where I am now, after meeting with many state senators and other representatives, it really does make a difference for players to express their support for online poker. Write a tweet. Make a phone call. Let them know."
Those efforts, while at some times a struggle, has made some serious headway of late in major states like Pennsylvania, New York and California. The key to more progress is concentrated efforts from pros like Somerville and his employer (as a member of Team PokerStars).
"Today, the difference in the U.S. is that there's some true momentum at the state level," said Eric Hollreiser, VP of Corporate Communications for Amaya and PokerStars. "Ever since the DOJ reversal of the Wire Act, which essentially freed up the states to have a say in online gaming, each state is at a varying level of investigating this issue.
"We see our role as twofold," Hollreiser continued. "First, we'll continue to do what we've always done, which is to make ourselves available to legislators — to educate and inform policy makers and decision makers. The second piece is to educate and inform players, and where possible and where it makes sense within the realities of state and federal laws, we promote players to get engaged themselves."
As long as there are forces working tirelessly to restore the rights of poker players throughout the United States and the world at large, and as long as there are bright minds working for good, poker stands a chance of regaining a certain level of its place in the mainstream world and establishing itself well beyond the bounds of the stereotypes that can limit those within the industry. It's just going to take some time.
"I have always been an advocate for regulated online poker in America," said Somerville. "I moved to Nevada to be a part of the first regulated online poker site in the states, I was proud to be a part of the launch of PokerStars in New Jersey, and I feel like I'm kind of uniquely positioned to be a voice for those who want regulation in America.
"It's a critical period of time, but progress is being made."

[+] Enlarge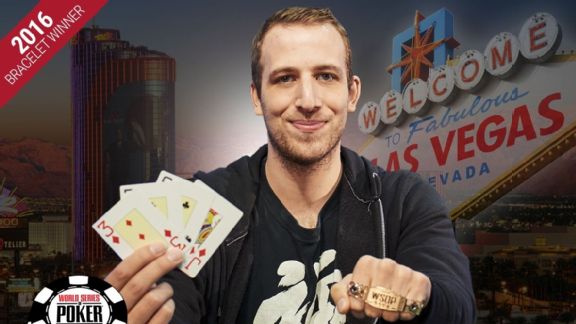 WSOP
Benny Glaser won two Omaha high-low split eight-or-better bracelets within a single week — joining Jason Mercier in accomplishing such a feat at the 2016 World Series of Poker.
This week's results
Event 23: $2,000 no-limit hold 'em
Entries: 1,419
Winner: Cesar Garcia ($447,749; first bracelet)
---
Event 24: $10,000 HORSE Championship
Entries: 171
Winner: Jason Mercier ($422,874; fifth bracelet)
Notes: This was Mercier's second bracelet win in a seven-day period; he also had a runner-up finish in that stretch.
---
Event 25: $2,500 no-limit hold 'em
Entries: 1,045
Winner: Michael Gagliano ($448,463; first bracelet)
---
Event 26: $1,500 Omaha high-low split eight-or-better
Entries: 934
Winner: Benny Glaser ($244,103; first bracelet)
---
Event 27: $1,000 Seniors no-limit hold 'em Championship
Entries: 4,499
Winner: Johnnie Craig ($538,204; first bracelet)
---
Event 28: $10,000 limit hold 'em Championship
Entries: 110
Winner: Ian Johns ($290,635; second bracelet)
---
Event 29: $1,500 no-limit hold 'em
Entries: 1,796
Winner: Alexander Ziskin ($401,494; first bracelet)
---
Event 30: $3,000 six-handed pot-limit Omaha
Entries: 580
Winner: Viatcheslav Ortynskiy ($344,327; first bracelet)
---
Event 31: $1,000 Super Seniors no-limit hold 'em
Entries: 1,476
Winner: James Moore ($230,626; first bracelet)
---
Event 32: $10,000 Omaha high-low split eight-or-better Championship
Entries: 163
Winner: Benny Glaser ($407,194; second bracelet)
Notes: This was Glaser's second bracelet win in the same discipline inside of a week. This also marked Mercier's fourth final table of the 2016 WSOP; he finished eighth.
---
Event 33: $1,500 Summer Solstice no-limit hold 'em
Entries: 1,840
Winner: Adrian Mateos ($409,171; second bracelet)
Notes: This event featured extended 90-minute levels, scheduled to coincide with the summer solstice. Diaz, at the age of just 21, now owns two WSOP bracelets and an EPT title.
---
Event 34: $1,500 2-7 Triple Draw Lowball (limit)
Entries: 358
Winner: Andrey Zaichenko ($117,947; first bracelet)
---
Event 35: $5,000 six-handed no-limit hold 'em
Entries: 541
Winner: Michael Gathy ($560,843; third bracelet)
---
Event 36: $2,500 Omaha/Seven-card stud high-low eight-or-better
Entries: 394
Winner: Hani Awad ($213,186; first bracelet)
Notes: Awad finished second in this tournament in 2015.
---
Event 37: $1,500 pot-limit Omaha
Entries: 776
Winner: Jiaqi Xu ($212,128; first bracelet)
---
Event 38: $3,000 six-handed limit hold 'em
Entries: 245
Winner: Rafael Lebron ($169,337; first bracelet)
Notes: Defending WSOP main event champion Joe McKeehen made this final table; he finished fourth.
---