[+] Enlarge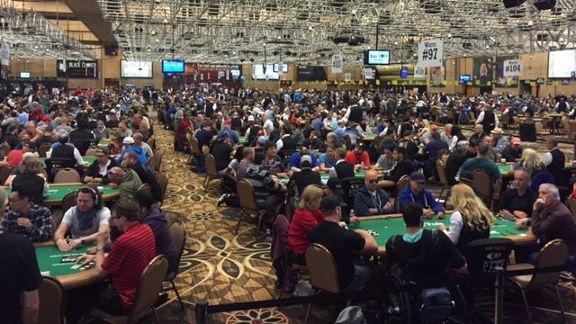 Dave Tuley
The WSOP is hoping innovative events like the Colossus continue to bring players to the tables.
Adapt or perish.
Few phrases apply so universally to so many different elements of life and the world we live in, but it may be the most apt approach to adopt in the poker world — an ecosystem that has had to change quite a bit to remain relevant and as healthy as possible over the last five years.
Many of these changes have been to the detriment of the casual and serious player alike. Rising costs and shrinking fields have led to increases in rake, alterations in price point and waning prize pools throughout the industry. The lack of online poker in the United States (outside of Nevada, New Jersey, Delaware and a handful of highly-questionable offshore sites) has driven more pros to play either far more live poker than before or to leave the country just to play online. Combine that with the resources becoming more readily available for players to improve at a far more rapid pace than in the past, and the live fields for most major tournaments are tougher than they've ever been.
Maintaining steady attendance numbers has never been harder, and while the simplest conclusion for tournament organizers might be to hold as many no-limit hold 'em events at as low a buy-in as possible to attract as many individuals as they can, reality requires far more nuance to execute, in order to maintain appeal to both casual players and top-level pros alike.
That's not to say that no-limit hold 'em isn't now and won't continue to be the most popular game, be leaps and bounds, for some time to come. Innovation can sometimes be as simple as finding the right gimmick, the right guarantee and the right mechanism to differentiate an event from every other generic no-limit hold 'em tournament in the world — and it's something the World Series of Poker has done better than anyone else in the last few years with the Millionaire Maker, Monster Stack and, most recently, the Colossus.
"Each year, as we look at schedules, our goal is to make things bigger and better than they were the year before," said Ty Stewart, Executive Director of the WSOP. "I think we saw with the Colossus that we really struck a nerve and brought in a new kind of player — a more recreational player — to Las Vegas and to the World Series of Poker."
The Colossus brought in the kind of diverse audience that's rare for any tournament outside of the main event. In its second year, Colossus drew 11,713 unique players from 89 countries and continued the trend from its first year of drawing an unusually-high percentage of first-time bracelet-event players — and that's clearly one of the principal goals moving forward.
"I hate the concept of a 'poker world' because it feels very insular," said Stewart. "We just want to bring the mainstream to the game and make it as easily accessible as possible."
Calling a guarantee on a prize pool or first place prize an innovation in and of itself might be a stretch, but it's far from the only adaption the WSOP is trying out. In their continued pursuit of trying to reach as wide an audience as possible while giving the players who spend all or most of the seven weeks in Las Vegas at the WSOP a fun change of pace, something new, yet-familiar, has found its way onto the 2016 schedule — a tag team event.
Teams of anywhere from two-to-four players will put up a combined buy-in of $1,000, with any one member of the team sitting at a table in the field at a time.
"This is an event where we hope we see husbands and wives, fraternity brothers, friends from work, or whoever wants to put a team together," said Stewart. "I think we'll see a really diverse cross-section of people who all enjoy poker, and that is an amazing thing."

[+] Enlarge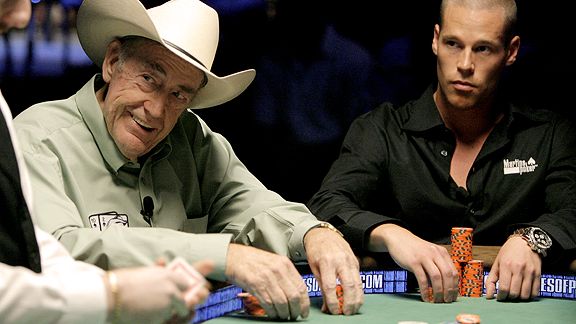 AP Photo/Jae C. Hong
Even the great Doyle Brunson didn't win all of his WSOP bracelets by himself.
While this particular format is a new experiment, there's also some precedent of team-based events in the WSOP's history. In addition to a more recent, non-bracelet experiment called Dream Team Poker in 2009, the late 70s and early 80s showcased mixed doubles events in seven-card stud and no-limit hold 'em, awarding several bracelets before disappearing from the schedule after the 1983 WSOP. One of those bracelets went to one of poker's all-time legends.
"With the creative concepts that we explore, we want to make sure that it is consistent with the DNA of the World Series of Poker," said Stewart. "As we looked to the past and we saw that an icon like Doyle Brunson — one of his bracelets was in mixed doubles event. We're really excited about that event, and I would say that that's an event that should be around for, hopefully, years to come."
The key demographic that the WSOP (and most corporate entities in the world, for that matter) seems to be targeting the most is millennials. The tag-team event and other events seemingly seek to invoke the kind of social experiences that typically go on elsewhere in Las Vegas at nightclubs or pools.
If the past is any indication, the level of success in its initial year will determine whether the tag-team event becomes a one-year wonder like so many other attempts that fell by the wayside, or turns into a regular feature like the Colossus or Millionaire Maker
"Everything at the World Series of Poker is year by year," said Stewart. "That's how we approach it, to see what works and what doesn't."
The trial-and-error method of building out a schedule has worked (and occasionally failed) in a number of ways over the last few years in particular, and one of the concepts that has stood out the most is one that's become a vital part of numerous other industries — brand partnerships.
In 2015, DraftKings partnered with the WSOP for a $1,500 no-limit hold 'em tournament called the "50/50", where half of the field finished in the money. Due to a number of factors outside of the world of poker, that partnership didn't carry over to 2016, but the concept of synergy between compatible brands manifested again in the form of an $888 buy-in tournament involving 888poker.
"Finding the creative fit between our events and a brand is something we're increasingly open to. Whether or not the Crazy Eights will come back, we will have to wait and see how the response is," said Stewart. "As far as courting corporate sponsors goes, that's ongoing and something that we'd like to see more of. We're happy for 888 to put their arms around it — I believe that they qualified about 150 people from around the world, which is really cool."
It was a slight change to a "Lucky 7's" event that ran in 2015, which drew 4,422 entries. The Crazy Eights arrangement, which also guaranteed a first place prize of at least $888,888, was exceedingly beneficial to both parties as 6,761 entries turned out to provide a major uptick for the concept and more momentum for similar arrangements in the future.
One final notable change for the 2016 schedule has been the addition of an event that starts after the $10,000 main event is well underway. The WSOP has taken a well-established event — the $1,111 Little One for One Drop — and made it the last event on the calendar in an attempt to accomplish several different goals.
"It's a charity event, and it's also the last shot at a bracelet," said Stewart. "And because it's an unlimited re-entry event, it allows a player to try to hope for one last score. That presents a cool dynamic, to have both an unlimited re-entry event, but also a charitable event that should raise well over a half-million dollars."
With international players often booking trips that carry them through the end of the main event, it offers them a chance to play for one more WSOP bracelet before they go home. It also gives the WSOP a chance to capitalize on what's become a growing market — post-main event tournament play. Previously, once the main event has gotten underway, eliminated players have gone to other properties who have piggybacked on the WSOP, hoping to capitalize on having those players already in town. Obviously, the WSOP doesn't want their built-in edge on the market to go to waste.
It's yet another smart play intended to maximize on potential.
"We, of course, from a business perspective, would like to keep those players playing with us," said Stewart. "The [Little One for One Drop] is an event that has traditionally been one of the largest no-limit hold 'em events of the year — consistently over 4,500 players — and by extending even the number of entry days, and by positioning it as the last shot event, we're hoping we can even grow it to even more."