A Nigerian police officer has been arrested for assaulting and robbing a skit maker, Ekwutosi Philo, popularly known as Ekwutosi, in Lagos.
In a video posted recently on her Instagram page, the skit maker narrated everything that transpired between her and the officers.
Explaining the occurrence which took place on the 20th of October, she mentioned that she had parked her car at the side of the road while trying to figure out her destination with the google map.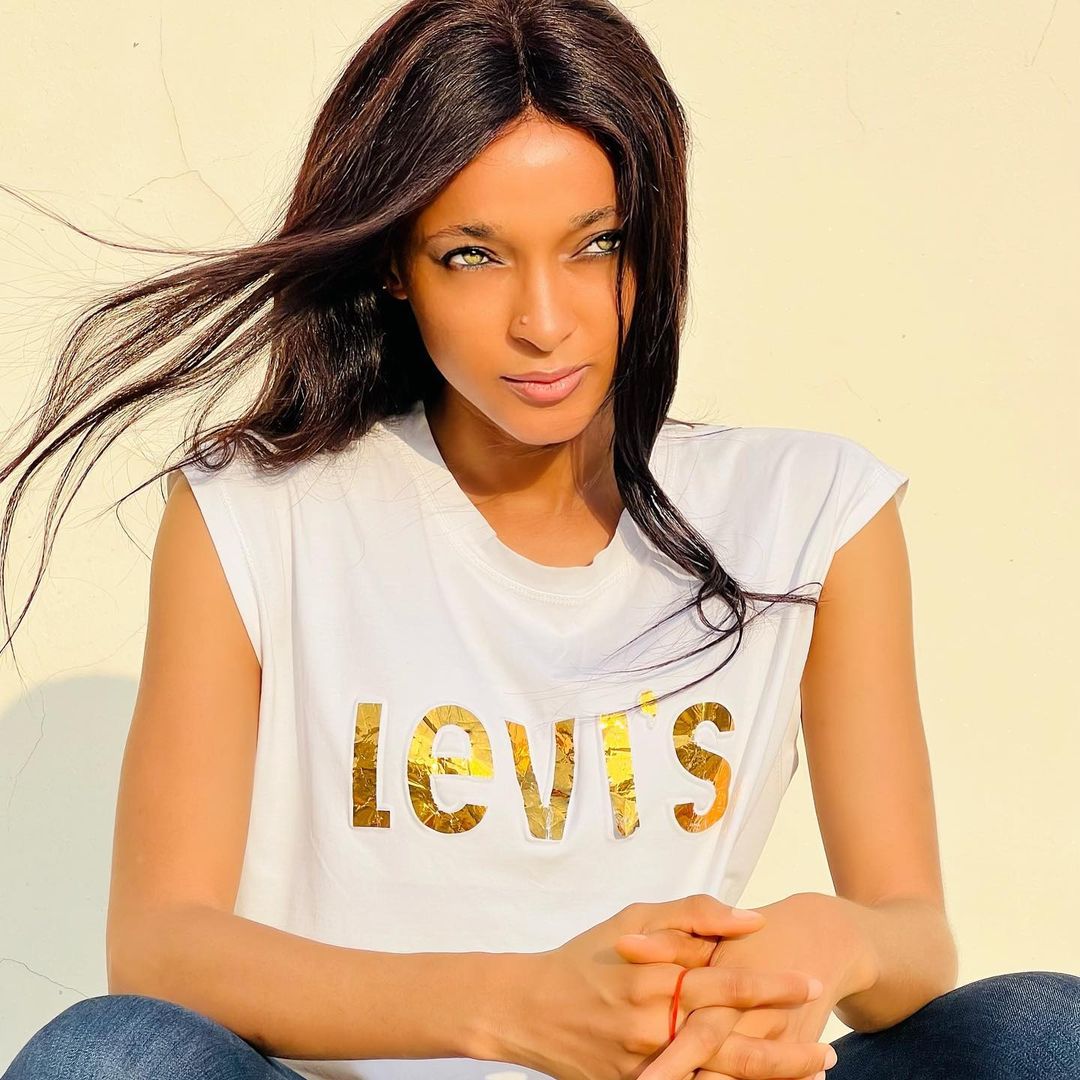 When she was attacked by some police officers, who kept insisting that she let them in to the car, when she refused, one of the police officers who she identified as Sunday Osagie, forced himself into the car and assaulted her when she went live on Instagram.
She also mentioned that while she was been assaulted, the police officer stopped the car with force, causing her to call for help from people around, few minutes after the officers left she noticed that her purse which contained some foreign currency and naira notes was missing.
She also added that she visited different police station to make a report, but they all denied knowing the officer, telling her that "He's not from this division" and referring her to other stations.
Reacting to the video, SP Benjamin Hundeyin stated that the officer had been arrested. 
He wrote in the comments,
"This dismissed officer, Sunday Osagie, has been apprehended after over a week on the run.

He was dismissed in April 2023 after being found guilty of engaging in illegal duties amongst other unprofessional conducts.

He will be prosecuted accordingly for impersonating a police officer."
However Nigerians where shocked to read that the police officer had been dismissed since April but was still operating as an officer.
The incidence has been condemned by many, while others hoped that the skit maker gets justice.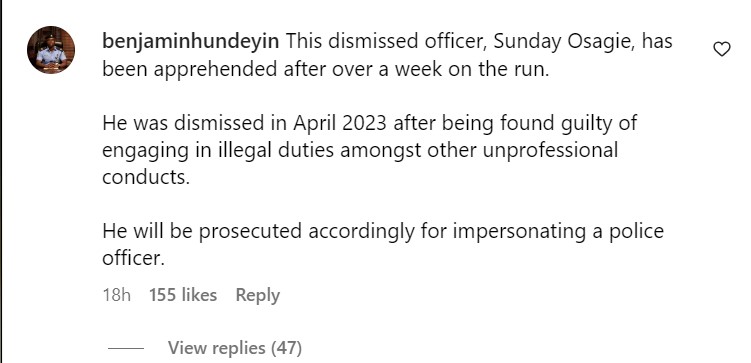 See screenshots of tweet below,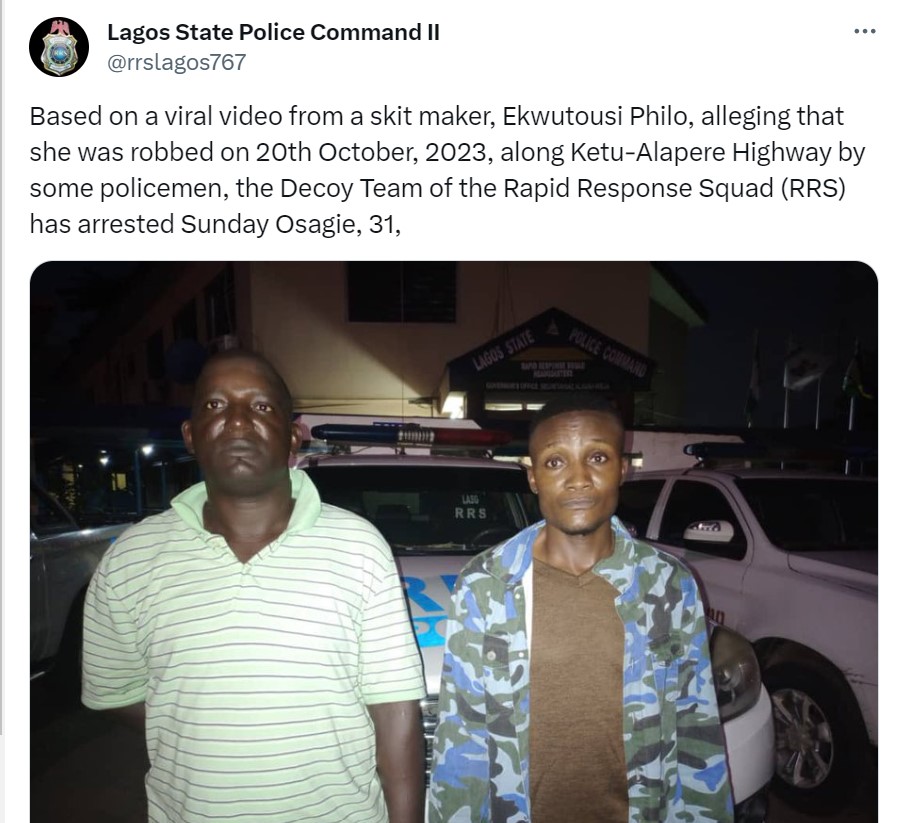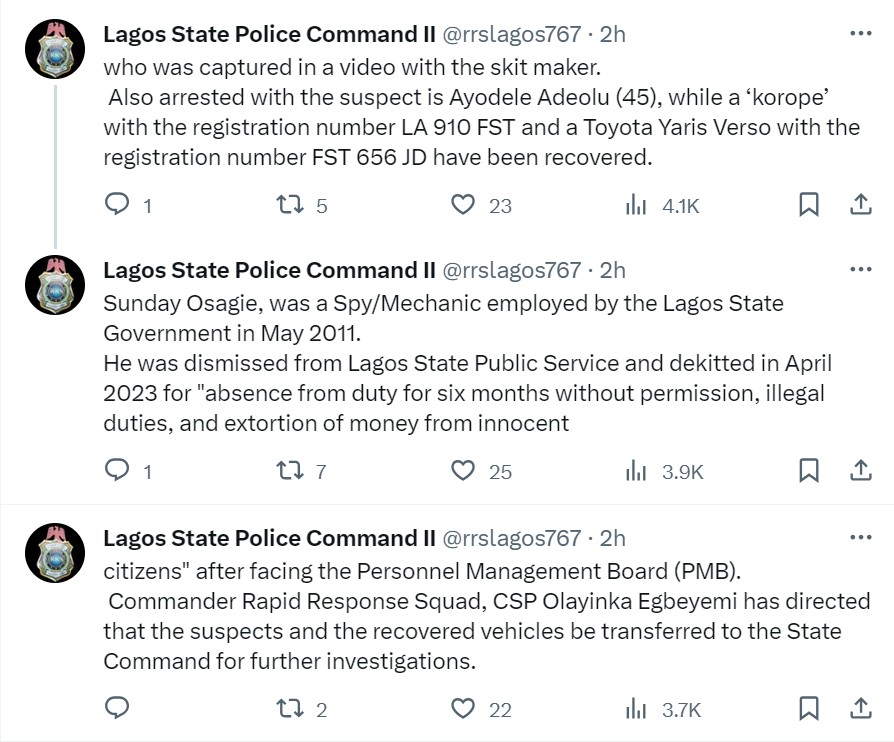 Watch the video below,