[+] Enlarge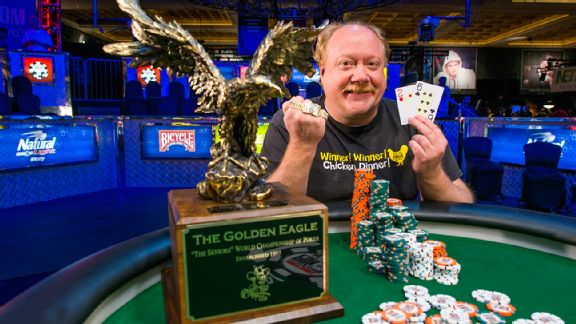 WSOP
Dan Heimiller won the biggest WSOP seniors event in history in 2014, in the second of three consecutive years running that the field eclipsed 4,000 players.
Sports and contests with the "seniors" label attached are often judged as lesser than and, with few exceptions, the level of play on display is typically far less impressive.
The Seniors no-limit hold 'em Championship at the World Series of Poker is a notable exception to that rule, in many respects. Not only is it the same game being played, but the 50-and-over crowd have to fight through some of the biggest fields of the summer — and the kind of big prizes at the end that come along with them.
In the 15 years that this tournament has run at the WSOP, it's steadily grown into one of the most unlikely highlights of the summer, drawing one of the biggest crowds and awarding one of the biggest prizes of any bracelet event on the schedule.
There are numerous theories as to why the field grew by at least 300 players for eight years running (and has held steady at over 4,000 players a year over the last three years).
"I think it was oldest form of social media — word of mouth," said Ty Stewart, WSOP Executive Director. "The folks who came out had a great time, and saw there was some very significant prize money to be won. They just decided they would make it their main event."
There's been support for seniors events since the early 90s, with tournaments that ran mostly in California and Nevada, but the WSOP's seniors event began in 2001, with 340 players signing up. Significant credit for the growth of these kinds of events in their earliest days has been given to "Oklahoma" Johnny Hale, who helped organize them and remains a big proponent for the current event to this day, at the age of 89.
Like all no limit hold 'em tournaments at the WSOP, the seniors event draws a wide range of players with equally varying talent levels. At certain points in its history, there was a definite feeling that this tournament was a bit of a softball for the established pros that waded into this field, but if Dennis Phillips' experience is any indication, the seniors event is no cakewalk.
"Actually, the quality of play has improved dramatically over the last four or five years," said Phillips. "The old mindset that everyone has with the older players and how they're going to play is disappearing. You sit at a table of 10 people now, you're going to have four or five of them at that table, at the least, that might be playing more aggressively; they're going to be playing more like you would find in a normal tournament."
Phillips should know about the toughness of the field as well as anybody in the poker world. After rising to prominence in the poker world with his third-place finish in the 2008 WSOP main event, Phillips has made the final table of the Seniors event twice; he was the runner-up in 2012, and finished fifth in 2015.
The fact that the level of play has risen along with the ever-growing field size is probably not a coincidence either.
"Every year you get a new crop of people that turn 50," said Phillips. "The people that were in their early 40s when this seniors escalation started, are now hitting it. Yeah, there's a lot of quality players there, that have played for a number of years. You're getting a lot of crossover now. A lot of the people that play in this thing play in a ton of other WSOP events."
Just because the field's a tougher one to crack doesn't mean this tournament has lost some of its charm. Unlike many other no-limit hold 'em events, most of the players in the seniors event are able to remember that they're playing a game — and they enjoy it, as such.
"They have fun. They talk to each other," said Stewart. "They are respectful. I'm not condemning younger players, but it seems that's the way it should be."
"I can sit down there with people I can relate to," said Phillips. "I can throw out songs and old TV shows, and the lineup for the Cardinals 40 years ago, and people know what the heck I'm talking about. You can't do that in other tournaments. There's an interesting relationship. It's a generation there of people who grew up together with the same things."
It seems a little bit anachronistic when referring to the "seniors event", but with the WSOP, there's always an eye towards the future, and towards evolution.
The field will continue to change as the new classes of 50-year-olds continue to breach the age threshold for eligibility, and the way Stewart sees it, that can only be good for the long-term health of the event.
"I think the fields will be even larger," said Stewart. "Obviously this [younger] generation had a lot higher percentage of its population playing than in decades past. We may see a few more hoodies and headphones though — old habits are hard to break."
The WSOP's ideas of expansion have also manifested in the short term. The 2015 WSOP schedule included a "Super Seniors" event (for players 65-and-up) for the first time, and while they didn't quite hit 4,000 players, it didn't quite disappoint either; some 1,533 players of retirement age turned out to vie for the inaugural title.
He's still a few years away from playing that event, which returns once again for 2016 and seems likely to remain for the long haul, but Phillips is an enjoyable enough presence in these events that his older compatriots can't wait to see him join in.
It's the same sense of camaraderie that helped build seniors events in the first place.
"I will tell you, I have probably had 20 people ask when I'm going to start playing the Super Seniors, because they're already in it," said Phillips. "It's like, 'Come on, when are you going to get here? We're waiting for you.' I'll finally be the young gun."
---
This week's results

[+] Enlarge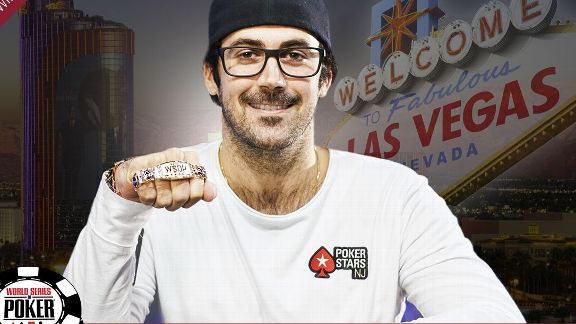 WSOP
It was quite a week for Jason Mercier, won won a bracelet and finished second in another event. Mercier doesn't look like he'll be slowing down any time soon either, with a third run in progress.
Event 8: $1,500 HORSE
Entries: 778
Winner:Ian Johns ($212,604; second bracelet)
---
Event 10: $1,500 Six-handed no-limit hold 'em
Entries: 1,477
Winner: Mike Cordell ($346,088; first bracelet)
---
Event 11: $10,000 Dealers Choice Championship
Entries: 118
Winner: Jean Gaspard ($306,621; first bracelet)
---
Event 11: $1,000 Top Up Turbo no-limit hold 'em
Entries: 667
Winner: Kyle Julius ($142,972; first bracelet)
---
Event 12: $565 pot-limit Omaha
Entries: 2,483
Winner: Ryan Laplante ($190,328; first bracelet)
---
Event 13: $1,500 Razz
Entries: 461
Winner: Rep Porter ($142,624; third bracelet)
---
Event 14: $1,500 Millionaire Maker no-limit hold 'em
Entries: 7,190
Winner: Jason DeWitt ($1,065,403; second bracelet)
Notes: There were 5,479 unique entries in this event. … First and second place (Garrett Greer) earned over $1 million. … Third-place went to Lisa Meredith, a kindergarten teacher from Vancouver, WA, playing in her first WSOP event … The average age of entries was 39.01, with the oldest player entering being 92-year-old Norman Spivock from California.
---
Event 15: $1,500 Eight Game Mix
Entries: 491
Winner: Paul Volpe ($149,943; second bracelet)
---
Event 16: $10,000 2-7 No-limit Draw Lowball Championship
Entries: 100
Winner: Jason Mercier ($273,335; fourth bracelet)
---
Event 17: $1,000 no-limit hold 'em
Entries: 2,242
Winner: Chase Bianchi ($316,920; first bracelet)
---
Event 18: $3,000 HORSE
Entries: 400
Winner: Marco Johnson ($259,730; second bracelet)
---
Event 19: $1,000 pot-limit Omaha
Entries: 1,106
Winner: Sam Soverel ($185,317; first bracelet)
---
Event 20: $10,000 Razz Championship
Entries: 100
Winner: Ray Dehkharghani ($273,338; first bracelet)
---
Event 21: $3,000 Six-Handed no-limit hold 'em
Entries: 1,029
Winner: ($531,577; first bracelet)
---
Event 22: $1,500 limit hold 'em
Entries: 665
Winner: ($188,815; first bracelet)
---