[+] Enlarge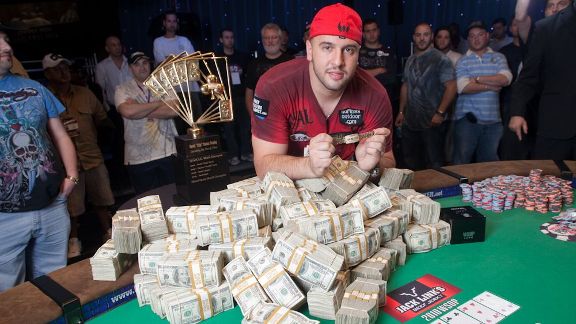 WSOP
Michael Mizrachi is the only two-time winner of the Poker Player's Championship.
In the 10 years it has been a part of the World Series of Poker schedule, the $50,000 Poker Players Championship has gone through a number of different looks. First it was a HORSE event, with no-limit hold 'em for the final table to suit a broadcast TV audience. Eventually the latter element was dropped and the format maintained shape until conclusion.
Then it became an eight-game event, a 10-game event, an event that regained the all-hold 'em final table (and lost it) … you get the point. Its $50,000 price point, which at its inception was seemingly astronomical, now sits among dozens of six-figure buy-ins and even the occasional $1 million buy-in tournament on the yearly tournament calendar.
Through it all — the various format changes, an emerging nosebleed-level buy-in tournament scene and a field that has waxed and waned in size — the Poker Players Championship still stands as a gold standard for mixed-game players to test their mettle against some of the best and brightest minds the game has to offer.
"It's the original high roller," said Ty Stewart, executive director of the WSOP. "I would say it's kind of a shame that it does seem to have lost a bit of its luster [with so many other high rollers], but I think that the buzz remains with the players — and at the end of the day, that's all that really matters."
Maintaining its standing among the players who will clash starting Saturday afternoon for the bracelet and the Chip Reese trophy has a lot to do with several elements the tournament has that distance it from all of the other massive buy-in events — namely, the requirement to be proficient at eight games, rather than just one.
"The players have always looked to that event as the decathlon of poker," said Stewart, "the one that really and truly tests all of a player's skills in the different variants, which is very unique. We believe that playing all the games is part of the core fabric of the World Series of Poker."
While the attendance is not quite what it was when the event was televised on ESPN as its own signature experience, the ability to evolve with the times has certainly helped the tournament stay relevant and fresh.
When an element works, it stays, like the transition from five games to eight games and making the tables more short-handed. When a further expansion to 10 games didn't go quite as smoothly, and players voiced their opinions on the matter, the WSOP listened and shifted accordingly.
"It's 100 percent about player feedback," said Stewart. "We want the PPC winner to represent the best all-around player, and what being the best all-around player means at any given time is going to change, based upon what games are being played most frequently at the moment. We will always look to the players to tell us what works and what doesn't in that particular event."
The flexibility largely stems from the nature of its format, with the primary goal every year of providing the most accurate reflection of mixed-game trends and player opinions. Whether it's five games, eight games, 10 or even 20, it all fits snugly under the same banner — and that's not something that can be said about a game like no-limit hold 'em.
"With the main event, you'll likely never see a major change in format, or very rarely," said Stewart. "The PPC, on the other hand, you may see an annual change because, again, we're just trying to reflect what the players think is the most accurate measure of the best all-around player. The kinds of games that are played and the overall format should continue to evolve. Thirty or 40 years ago, no-limit hold 'em was barely being played."
The $50,000 Poker Players Championship stands as a kind of "line of demarcation" in the WSOP schedule too. After this tournament kicks off, it's soon followed by the $25,000 pot-limit Omaha High Roller, the $111,111 High Roller for One Drop and, finally, the grandest stage of them all in poker, the main event.
That's not to say that this stretch is only for those players who have the deepest pockets. Some new and unique events are also right around the corner, providing those who prefer no-limit hold 'em with a variation or two of their own when compared to the wave of "standard" no-limit events.
"Yeah, absolutely," said Stewart, when asked if the PPC is deliberately placed in the schedule as an escalation to build toward the main event. "You also have the tag team event, which we hope brings a different audience, and we have the online event too. At this point, we're building on all levels to the climax, but for the PPC and the One Drop High Roller and the PLO High Roller, yeah, it's everything the guys who play that level of tournament want within a couple of weeks.
"We want this to be a time where everybody is in the house," said Stewart. "I think, with the duration of the World Series of Poker being seven weeks, as long as it is, there are many folks that have to pick and choose how long they will be here. If you're an international player, for instance, it may not be practical to be here for the whole duration. But everybody can come in this window for the big finish."
It all comes back to the Poker Players Championship, though. Cards go into the air at 3 p.m. PT Saturday, and from there things become something of a blur of daily chaotic action at the Rio until the main event is suddenly upon us all. It's not to say that there haven't been other highlights at the 2016 WSOP: the Monster Stack, Millionaire Maker and Colossus all maintained big fields; Jason Mercier took the world by storm for 10 days; and former champions are finding gold once again.
But there's no denying business is about to pick up.
"It's a pillar event," said Stewart, when reflecting on the PPC. "It's not the largest buy-in event anymore, but it's certainly still one of the most meaningful."
---

[+] Enlarge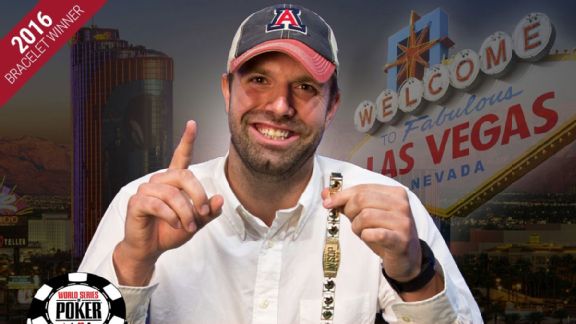 WSOP
Mitchell Towner was the fourth millionaire crowned at the 2016 World Series of Poker.
This week's results
Event 39: $10,000 six-handed no-limit hold 'em
Entries: 294
Winner: Martin Kozlov ($665,709; first bracelet)
Notes: Kozlov eliminated both Davidi Kitai and Justin Bonomo on the same hand to win the tournament, as his pocket queens held against his opponents' lower pocket pairs.
---
Event 40: $2,500 mixed-limit Triple Draw Lowball
Entries: 236
Winner: Christopher Vitch ($136,854; first bracelet)
---
Event 41: $1,500 Monster Stack no-limit hold 'em
Entries: 6,927
Winner: Mitchell Towner ($1,120,196; first bracelet)
Notes: Towner is the fourth person to win a prize of at least $1 million at the 2016 WSOP
---
Event 42: $3,000 no-limit hold 'em shootout
Entries: 400
Winner: Phillip McAllister ($267,720; first bracelet)
---
Event 43: $10,000 Seven-card stud high-low eight-or-better Championship
Entries: 136
Winner: George Danzer ($338,646; fourth bracelet)
---
Event 44: $1,000 no-limit hold 'em
Entries: 2,076
Winner: Steven Wolansky ($298,849; second bracelet)
---
Event 45: $1,500 no-limit hold 'em/pot-limit Omaha
Entries: 919
Winner: Loren Klein ($241,427; first bracelet)
---
Event 46: $1,500 bounty no-limit hold 'em
Entries: 2,158
Winner: Kristen Bicknell ($290,768; second bracelet)
Notes: Bicknell is the first woman to win a WSOP bracelet in 2016. This is her first open-event WSOP victory; she won the Ladies' Championship in 2013.
---
Event 47: $10,000 2-7 Triple Draw Lowball Championship (limit)
Entries: 125
Winner: John Hennigan ($320,1013; fourth bracelet)
---
Event 48: $5,000 turbo no-limit hold 'em
Entries: 524
Winner: Ankush Mandavia ($548,139; first bracelet)
Notes: This was the first final table of the 2016 WSOP for 14-time bracelet-winner Phil Hellmuth, who finished eighth. This was Hellmuth's 55th career WSOP final table — also a record.
---
Event 49: $1,500 Seven-card stud
Entries: 331
Winner: Shaun Deeb ($111,101; second bracelet)