[+] Enlarge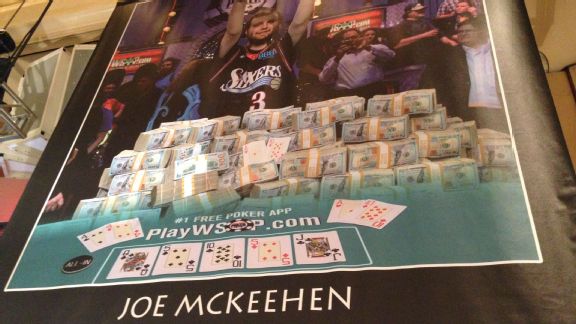 Tim Fiorvanti
Joe McKeehen's 2015 World Series of Poker main event championship banner was raised before the start of play on Day 1C Monday.
The 2016 World Series of Poker main event champion went to sleep Monday night with some of the chips that will lead them to the promised land already in hand, with one of the seven days of play required to make the November Nine behind them and a long road of battles ahead.



Who is destined to take home the $8 million first place prize, to top a field of 6,737 that stands as the largest a WSOP main event has seen in five years? It could be Timothy Sheehan, who surged to the top of the overall chip counts by the close of Day 1C Monday with 394,100, or Andrey Zaichenko, or Gary Sewell, who also topped their respective starting flights.

Modern history at the WSOP, along with the sheer size and scope of the field, points to a high likelihood that the champion will come from elsewhere, but those three are as well-positioned as any of the 5,000 or so players who still have their eyes set on the most coveted prize in all of poker.
There's a lot to play for, even if the $8 million first place prize and oversized six-figure WSOP championship bracelet escapes any given player. While numbers largely plateaued with the WSOP's tent-pole events throughout the summer, the main event turnout compares well historically — and each starting session saw an increase in size year-over-year, including another record-setting Day 1C turnout.
Day 1A: 741 to 764
Day 1B: 1,716 to 1,733
Day 1C: 3,963 to 4,240
For the first time ever 15 percent of the main event field will share in the prize pool, which reached $63,327,800, and that means 1,011 players will go away with more than the $10,000 they started with.
In the larger scope of things, this tournament is still in its infancy; some 75 percent of the field has held on in some fashion to make one of the Day 2 sessions to come. That's not to say, however, that nothing significant has happened yet in this tournament. Jason Mercier, who surged into a massive lead in the GPI WSOP Player of the Year race on the back of a two-bracelet, one runner-up (and then some) performance thus far, will have to look on as those who chase him continue their pursuits at the biggest title in poker, while he's left with just the Little One for One Drop to fulfill his hopes of a third bracelet in Las Vegas this summer.
Phil Ivey's made his very first appearance of the 2016 WSOP Monday, and while he was left with just over half of a 50,000 starting stack at the close of five levels, there's still an abundance of play left in this tournament's structure. Phil Hellmuth, who currently sits four bracelets ahead of Ivey on the all-time leaderboard, waited until the very last seconds of Day 1C before joining the fray, ultimately bagging 45,200. While the all-time bracelet race had seemed to heat up over the last few years, Ivey's absence this summer seems to indicate that Hellmuth has very little to worry about as far as challengers to his throne go in the near-future.

Unofficial overall top-10

Timothy Sheehan (Decatur, GA, USA) — 394,100
Gary Sewell (Duarte, CA, USA) — 312,500
Alvaro Lopez (Tucson, AZ, USA) — 306,200
Andrey Zaichenko (Moscow, Russia) — 292,700
Kenny Hallaert (Hansbeke, Belgium) — 269,400
Ben Vinson (London, England) — 256,700
Scott Neuman (Rawlins, WY, USA) — 226,000
Sean Case (Weatherford, OK, USA) — 222,500
Kevin Powell (Buckeye, AZ, USA) — 219,800
Michael Schneider (Covington, GA, USA) — 215,800

[+] Enlarge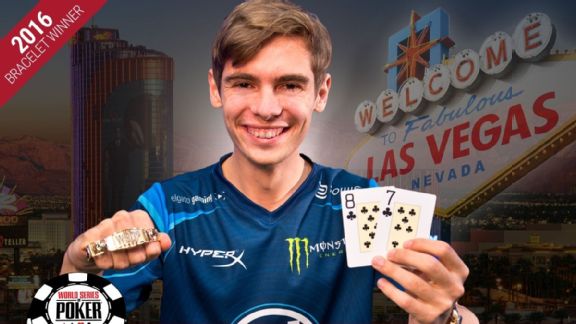 WSOP
At age 22, Fedor Holz has lit the world on fire thus far in 2016, accumulating over $13 million in gross tournament earnings since January — nearly $5 million of which was earned in the One Drop High Roller, where Holz earned his first career bracelet.
Final week of prelims brings fireworks
With three of the biggest tournaments of the summer packed into the final week of pre-main event action at the WSOP, it should come as little surprise that the poker world got more than its fair share of excitement as the last few bracelets of 2016 were awarded.
22-year-old Fedor Holz stole a great deal of the headlines, as he's done on numerous occasions in his young career, by winning the $111,111 One Drop High Roller. Holz topped a field of 183 entries, the largest turnout any such field has had since its addition to the schedule a few years ago, to win just shy of $5 million and his first WSOP bracelet.
"I just so feel overwhelmed. I didn't think it would be like this," Holz said, shortly after his victory. "I'm really happy right now….I was very focused coming into this. I told my friends even, that this was going to be a very important week. I had such a great feeling about this tournament and felt really intense about it, which is why it means so much to me to win it.
"It is one of the best experiences of my life," he added.
It's hard to put the level of Holz's success over the last 15 months, most specifically in High Roller events, into perspective — but we'll try. Since bursting onto the scene with a pair of Super High Rollers in Monte Carlo in April and May of 2015, Holz put together two deep runs at the 2015 WSOP (third in the $10,000 six-max no-limit hold 'em Championship and 25th in the main event), and booked three seven-figure scores (wins at WPT Alpha8 at the Five Diamond Poker Classic and WPT National Philippines, and a runner-up at the start of the summer in the Super High Roller Bowl for a combined $8.5 million) before you even factor in this victory.
It really says something when his performance can overshadow Brian Rast's run to a second Poker Players Championship title, or Jens Kyllönen's impressive run to a $1.1 million payday in the pot-limit Omaha High Roller. Holz has earned it though, putting together one of the great individual years we've ever seen in tournament poker already in 2016 — oh, and by the way, he's still alive and kicking in the main event, with a more-than-healthy 93,300 after Day 1C.
Small blinds

The debut of the Tag Team event was met by tremendous excitement from those who played. 863 teams embraced the format, with pro-heavy teams, family lineups and friends pooling their money for a chance at a bracelet for as little as a $250 individual investment were just a few examples of how teams came together. Doug Polk and Ryan Fee came away with their second and first-career bracelets for the victory, with Polk leaving the final stages of the tournament to Fee as he headed over to play the One Drop High Roller.
While it's unlikely to reach the fever-pitch it existed at during the pre-Black Friday era of the game, as usual, a strong contingent of celebrities and athletes turned out to take their own shots at WSOP main event glory. Regulars like actors Brad Garrett, Ray Romano, Jennifer Tilly and Kevin Pollack were joined by the likes of rapper Hoodie Allen, director Nick Cassavetes, Curb Your Enthusiasm producer Gavin Polone, former Astros and Phillies closer Brad Lidge, NFL defensive standouts Richard Seymour and Antoine Winfield, recently retired soccer star John Arne Riise and cricket legend Shane Warne, among others.
William Wachter of Mahopac, New York, at the age of 95, was the oldest player to enter the 2016 WSOP main event. The youngest, Evan House-Hull of Sandoval, Illinois, USA, was less than three weeks beyond his 21st birthday. The average age of a main event player this year is a hair over 40-years-old
What's ahead: Day 2AB, with two simultaneous but independent sessions, takes place on Tuesday, with Day 2C scheduled for Wednesday. The field combines into a single group for the first time on Thursday for Day 3.


[+] Enlarge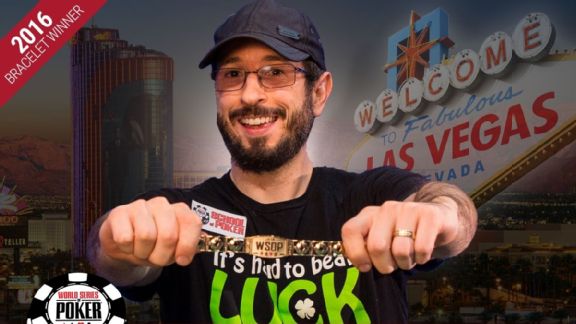 WSOP
Brian Rast joins Michael Mizrachi as the only players to win the $50,000 Poker Player's Championship twice.
This week's results
Event 55: $50,000 Poker Player's Championship
Entries: 91
Winner: Brian Rast ($1,296,097; third bracelet)
Notes: This is the second time Rast has won the $50,000 Poker Player's Championship, and he joins Michael Mizrachi as the only two-time winners in the event's history. In 2011, Rast defeated Phil Hellmuth heads-up to win his second career WSOP bracelet in the PPC.
---
Event 58: $1,000 no-limit hold 'em
Entries: 1,397
Winner: Corey Thompson ($221,163; first bracelet)
---
Event 59: $5,000 no-limit hold 'em
Entries: 863
Winner: Yue Du ($800,586; first bracelet)
---
Event 60: $1,500 Seven card stud high-low split eight-or-better
Entries: 521
Winner: David Prociak ($156,546; first bracelet)
---
Event 61: $1,000 Tag Team no-limit hold 'em
Entries: 863 teams
Winners: Ryan Fee and Doug Polk ($153,358; first bracelet for Fee, second for Polk)
Notes: This was the first ever tournament of its kind at the WSOP. Other than Polk, previous bracelet winners whose teams made the final table include James Dempsey (fourth place), John Gale (fifth) and Owais Ahmed and Benny Glaser (sixth).
---
Event 62: $25,000 pot-limit Omaha High Roller
Entries: 184
Winner: Jens Kyllönen ($1,127,035; first bracelet)
---
Event 63: $1,000 no-limit hold 'em
Entries: 2,452
Winner: Tony Dunst ($339,254; first bracelet)
---
Event 64: $3,000 pot-limit Omaha high-low split eight-or-better
Entries: 473
Winner: Kyle Bowker ($294,960; first bracelet)
---
Event 65: $1,000 Ladies no-limit hold 'em Championship
Entries: 819
Winner: Courtney Kennedy ($149,108; first bracelet)
---
Event 66: $1,000 WSOP.com Online no-limit hold 'em
Entries: 1,247
Winner: Clayton Maguire ($210,279; first bracelet)
---
Event 67: $111,111 High Roller for One Drop no-limit hold 'em
Entries: 183
Winner: Fedor Holz ($4,981,775; first bracelet)
---